As part of the Unified Community Platform project, your wiki will be migrated to the new platform in the next few weeks. Read more here.
Necromancer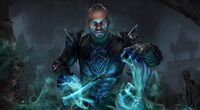 The Necromancer is the class coming with the release of The Elder Scrolls Online Chapter: Elsweyr on June 4 2019.
Skills
Imbue the dead with frost, fire, and lightning to bring ruin upon your enemies. Raise relentless hordes of the undead and allow your fallen enemies to intensify your unyielding assault.
Draw from the power of life and death to replenish and restore your allies. Resurrect your defeated comrades and keep them in the fight.
Bend and break the dead to your will and use their remains to create impenetrable barriers and extend your own life. Control the battlefield with the bones of the departed.